AIM Act
Learn more about the phase down HFCs in the US.
The AIM (American Innovation and Manufacturing) Act was enacted into law by Congress, signed by the President at the end of 2020, and finalized in September 2021.
The AIM Act phases down the United States' production and consumption of all hydrofluorocarbon gases (HFCs), which are widely used in refrigeration, air conditioning, and fire protection, through 2036. It brings the US in line with the Kigali Amendment to the Montreal Protocol, which reduces global warming gases in the atmosphere.
The phase-down of HFCs is based on baseline levels, with the goal of reducing the production and consumption of HFCs to 15% of baseline levels by 2036, through an allowance allocation and trading program. View the phase-down schedule in the bar graph below.
The phase-down of available virgin gases will greatly outpace the demand for both new equipment and the ongoing servicing of existing equipment. This gap will be filled by reclaimed gases.
As an industry leader, A-Gas is dedicated to helping our customers procure the materials they need. Through our expertise and approach to the lifecycle management of gases, A-Gas has been capturing this gas for destruction or future re-use, preventing its harmful release into the atmosphere for 30 years.
Have you talked with your supplier about the upcoming reduction?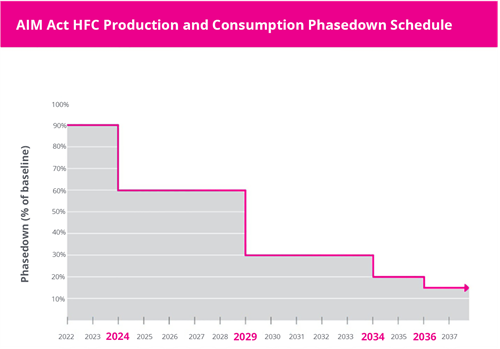 *The bar graph is recreated based on information from the EPA. 
Contact us to learn how the AIM Act may impact you.
Gases Impacted
The main components that make up some blended gases include molecules found in HFCs (Hydrogen, Fluorine, and Carbon). Some of the products you use, including HFO blends, may include those components. If you are not sure if the products you use contain those molecules, please reference the Safety Data Sheet.
Rely on A-Gas for Your HFCs
A-Gas is a reclaimer first. As a modern reclaimer, we have invested heavily across the globe in innovative, world-class separation technology, which allows us to provide you with reclaimed products that meet AHRI standards. 
For over 30 years, our position as a global leader has enabled us to see how other locations adopted and implemented similar legislation. We are now providing our customers with insights from that experience. 
Our commitment to responsible refrigerant lifecycle management means that we are experts in EPA documentation: all our Rapid Recovery® and Rapid Exchange® technicians are EPA certified, our Refri-Claim program meets EPA and DOT requirements, and our Fire Protection technicians follow the Halon Recycling Corporation's voluntary code of practice.
A-Gas supports the industry and our customers through our
participation in the circular economy, reclaiming HFCs for reuse.
The EPA uses an "allowance" as the unit of measurement that controls production and consumption. The EPA will issue allowances that will be valid between January 1 and December 31 of a given year, also known as a "calendar-year allowance." A calendar-year allowance represents the privilege granted to an entity to produce or import regulated substances in that year.
Unlike some other phaseouts or phasedowns, this baseline and allocation system is not based on the weight of HFC amounts. Rather, the total global warming potential (GWP) of the HFCs in play per company is the critical factor in determining the baseline, reductions, and allocations allowed.
A-Gas has secured allowances for 2023. Entities will need to use allowances to produce or import bulk HFCs.
Virgin products will become scarcer as the reductions in supply increase during the phase-down. A-Gas will continue to recover, reclaim, and purchase HFCs from a variety of sources. As a modern reclaimer, A-Gas can provide products that meet AHRI-700 standards to address your business needs.
As with any phase-down, virgin products will become scarcer as the reductions in supply increase. A-Gas will continue to purchase HFCs from decommissioned fire protection systems in the US for reclamation and reuse in the industry. This will allow us to continue to service your HFC needs. Our reclaimed HFCs are tested and certified to the same ASTM spec (as required by NFPA 2001) as virgin products and are kept in stock, ready for shipment.
If you forecast a need to purchase these agents, please contact us so we can help you plan for success. As a reclaimer and quota holder, A-Gas is here to assist you with your HFC needs today, tomorrow, and in the future.
If you are thinking about the long-term goals and strategy of your organization past 2036, contact us to discuss how we can tailor a refrigerant management strategy for you. Not only will you be ahead of your competition, but you'll have a compelling story to share with your customers and key stakeholders.
This is a market in transition, and as such, we can only speculate what the future holds. What is clear is that the industry will move toward lower Global Warming Potential (GWP) products. Reclaimed refrigerants will fill the gap as we make this transition.
Safe recovery of these gases plays a key role. Not only is it the right thing to do for the environment, but safe recovery and reclamation are critical to secure the future supply, especially as the phase-down of HFCs tightens in 2024, 2029, 2034, and 2036.
As the market transitions, existing equipment will still utilize HFCs. While organizations strategize and plan for upcoming capital expenditures, they can sell used HFCs. The proceeds of those sales can help offset the costs of installing new systems when it's time to replace old equipment at the end of its useful life.
This is a phase down—not a phase out or a production ban as we saw with HCFCs and Halons, respectively. That means that HFCs will still be available for use and import, but the supply will decrease. For HCFCs like R22, only reclaimed product is available.
Part of the AIM Act stipulates a ban on imports of disposable cylinders after December 31, 2024, and a ban on the sale of disposable cylinders after December 31, 2026. While this may add complexity for wholesalers and suppliers, fewer disposable products worldwide will mean less unnecessary waste. 
First and foremost, gases should never be vented and should only be safely recovered.
608 requirements are part of the Clean Air Act and other legislation, which is separate from the AIM Act. Regardless, A-Gas always provides EPA documentation as part of Rapid Recovery, Rapid Exchange, and Refri-Claim. 
They are used refrigerants cleaned by means of filtration, distillation, separation, or other mechanical processes. As a result, our finished product meets the same standards as a newly produced refrigerant.
Virgin products will become scarcer as the phase-down of HFCs tightens in 2024, 2029, 2034, and 2036. However, demand for cooling and refrigerants will continue to rise. By using reclaimed products, fewer virgin products need to be produced, thus decreasing carbon emissions. This also enables us to secure the future supply of HFCs, responsibly.
The US EPA regulates the resale of Ozone Depleting Substances (ODS) so all ODS refrigerants must be reclaimed by an EPA-certified refrigerant reclaimer. The EPA certifies refrigerant reclaimers that use the AHRI standard to ensure the purity and quality of the refrigerant.
All three of our locations are EPA Certified Reclamation Facilities. 
With Rapid Recovery® we can provide recovery service for most refrigerants and Halon. With over 50 locations across the US, our mobile recovery team's motto is "Yes We Can!" Recovery and refrigerant buyback are all part of our refrigerant lifecycle management offering to our customers. Let us be your one-stop-shop.