A-Gas Rapid Exchange Service Supports Customers in Riverside and Los Angeles
Result of an Expansion of Services in 2022 in the Inland Empire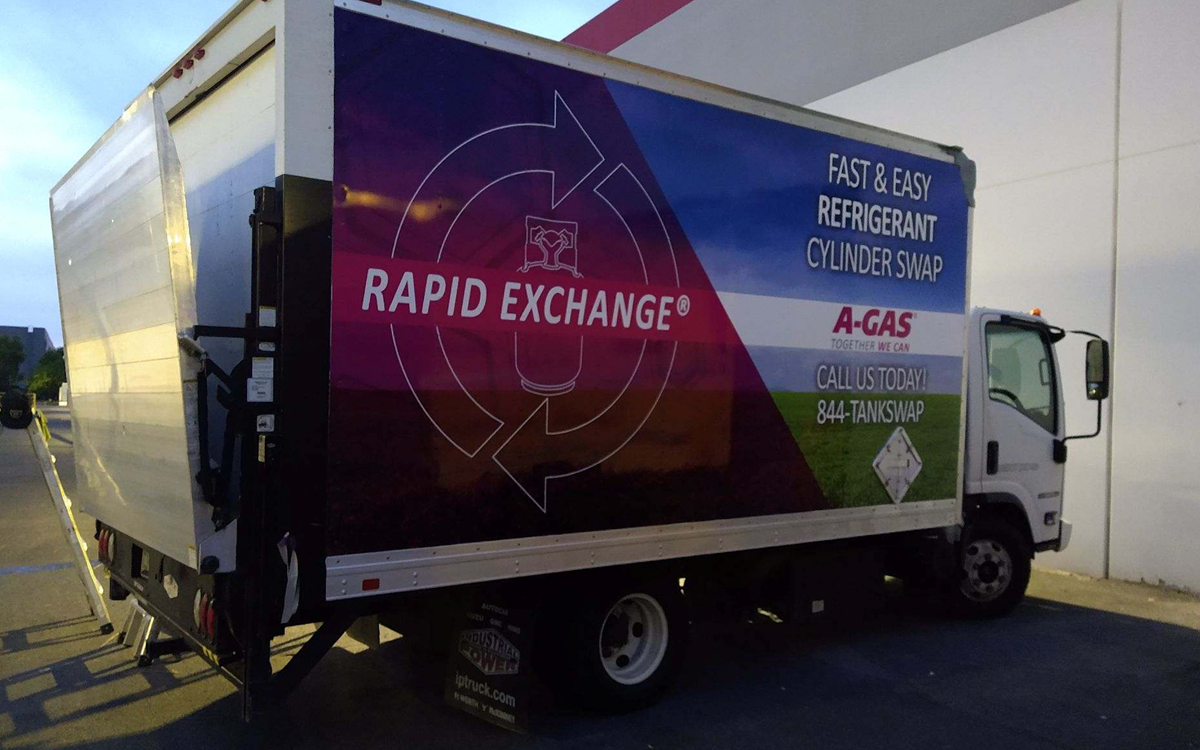 September 11, 2023 | A-Gas, a world leader in environmentally responsible refrigerant management, expanded their service offerings in Southern California to better serve the Riverside, Los Angeles, and other Inland Empire HVACR communities with quick and easy cylinder swaps through Rapid Exchange®.
After A-Gas took ownership of the formerly franchise-owned Riverside Rapid Recovery® location in late 2022, they have worked closely with the surrounding area to best support refrigerant recovery. In doing so, the Southern California Rapid Recovery and Rapid Exchange teams are enabling the circular economy, and in turn, helping to prepare the market for the next stepdown as part of the AIM Act's HFC phasedown. With California's recently passed SB 1206, the state's focus on reducing the Global Warming Potential of HFCs in use has made gas recovery and reclamation even more important.
Long-standing customers have employed Rapid Recovery's cylinder service to recover refrigerant from large recovery cylinders at a customer's site. Now, with Rapid Exchange, they can get a quick cylinder swap when they need vacuumed, in-date cylinders fast to service their customers.
Christian Ratinoff of Climate Pros, a customer of the Rapid Recovery for over 20 years shared, "Time and time again our projects have been a success with back up from Rapid Recovery. In past years to present, they have always been accommodating with scheduling and attentive to the needs of particular 'special' projects; even on short notice and emergencies."
"Supporting Inland Empire businesses is something I've been passionate about for years," stated Colleen Pearce, who is responsible for all Rapid Recovery and Rapid Exchange special projects in the Inland Empire. "We've seen a real impact since we launched the Rapid Exchange service. We've saved our customers valuable time and gave them a new avenue to sell their used refrigerants. We look forward to continuing to give these vital businesses the tools they need, all while participating in the circular economy."
"Californians have always been ahead in adjusting business practices to minimize negative impacts on the environment. With Rapid Exchange, it is easier for HVACR contractors to recover refrigerant gases, which prevents any harmful venting to the atmosphere," noted Michael Borchard, Business Development Sales.
As a modern refrigerant reclaimer, A-Gas is focused on environmental stewardship through the lifecycle management of refrigerant gases and contributing to the circular economy. A-Gas manages the full life cycle of refrigerants for its partners around the world and safely reclaims millions of pounds of material each year.