A-Gas Adds Market-Leading Refrigerant Separation Tower to Bowling Green Plant
Further Expands Capabilities to Support Reclamation, a Critical Part of Lifecycle Refrigerant Management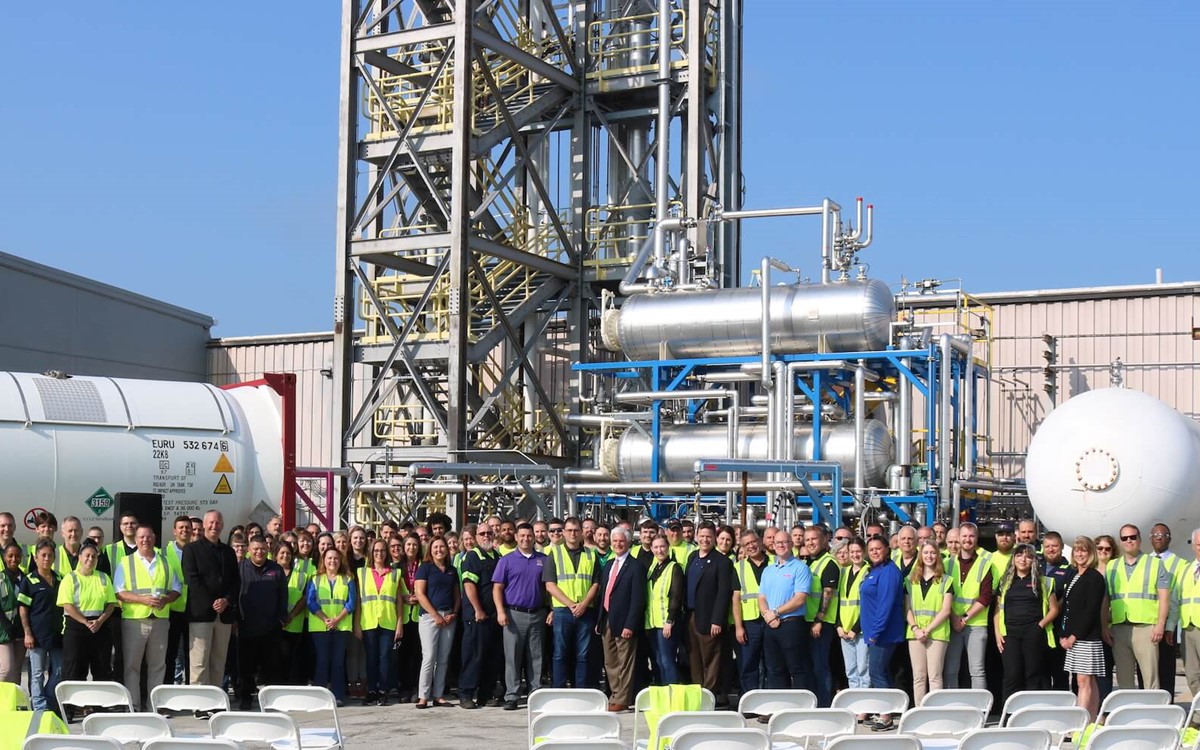 August 9, 2023 | A-Gas, a world leader in environmentally responsible lifecycle refrigerant management, announces the addition of a new separation tower at their Bowling Green facility, strengthening their commitment to the circular economy. This expansion project is another example of A-Gas' continued investment in cutting-edge technology, deepening their role as a major contributor to the circular economy.
This new separation tower will increase A-Gas' gas processing capabilities by 15% in the US. This will allow A-Gas to provide more high-quality reclaimed refrigerant gases, substantially increasing the number of such gases in the market. With this new separation tower, A-Gas increases the separation capacity at the current site, which addresses a critical need highlighted by a recent NGO report: The 90 Billion Ton Opportunity: Lifecycle Refrigerant Management.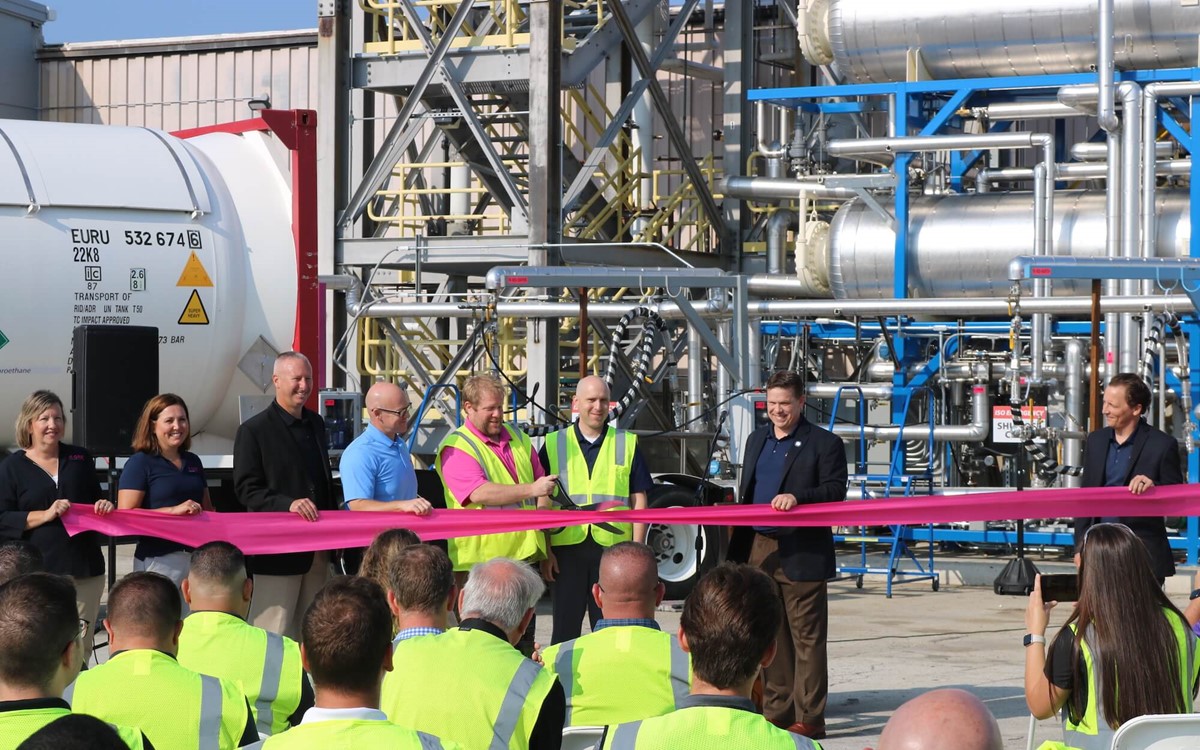 A-Gas' newest separation tower was opened with a celebration at the facility on August 9, 2023. Speaking at the event in support of A-Gas' reclamation efforts and contributions to the circular economy were Congressman Bob Latta, State Representative Haraz Ghanbari, and Mayor of Bowling Green Mike Aspacher. Other attendees included Ohio EPA representatives Archie Lunsey and Gary Deutschman, as well as Municipal Administrator Lori Tretter, Ben Otley from the Bowling Green Economic Development Council, and Mary Hinkleman from the Bowling Green Chamber of Commerce.
Year-over-year, A-Gas has nearly doubled their reclaimed refrigerant output, making A-Gas a market leader in reclaimed refrigerant in the US. Expanding the recovery and reclaim of refrigerant gases is essential for implementing the production and importation phase down of hydrofluorocarbons (HFCs) under the American Innovation and Manufacturing Act (AIM Act), which ensures US compliance with the Kigali Amendment to the Montreal Protocol.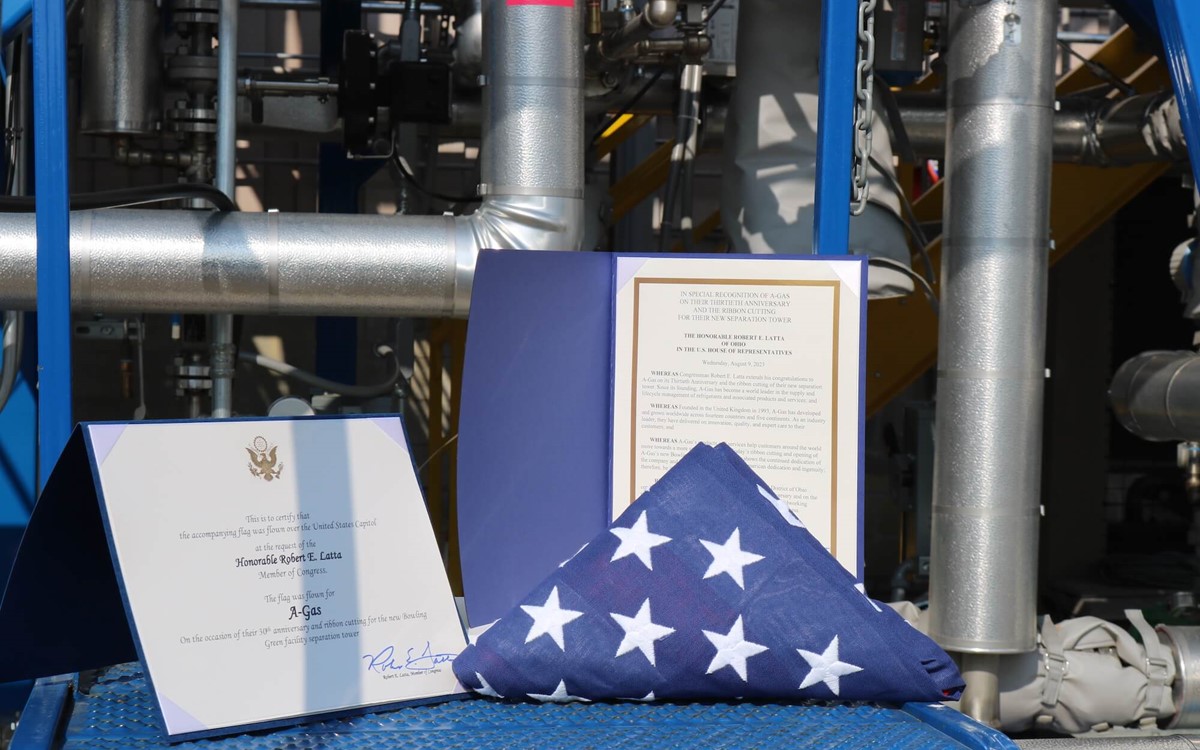 Taylor Ferranti, Commercial Vice President of Refrigerant Management at A-Gas, shared, "At the end of the day, every pound of refrigerant that is reclaimed is a pound of refrigerant that was recovered instead of harming the environment with illegal venting or equipment failure. Safe gas recovery through on-site recovery services like A-Gas Rapid Recovery® and cylinder exchange programs like Rapid Exchange® and Refri-Claim make reclaiming refrigerant possible, and we are excited that this new tower can increase this rate of reclamation. We look forward to giving more people and organizations the opportunity to participate in the circular economy."
A-Gas continues to lead the way in managing the refrigerant lifecycle process through their reclamation capability while continuing to source the next-generation products to support their customers in transitioning to alternative refrigerants.