The Difference Between Reclaim and Recycle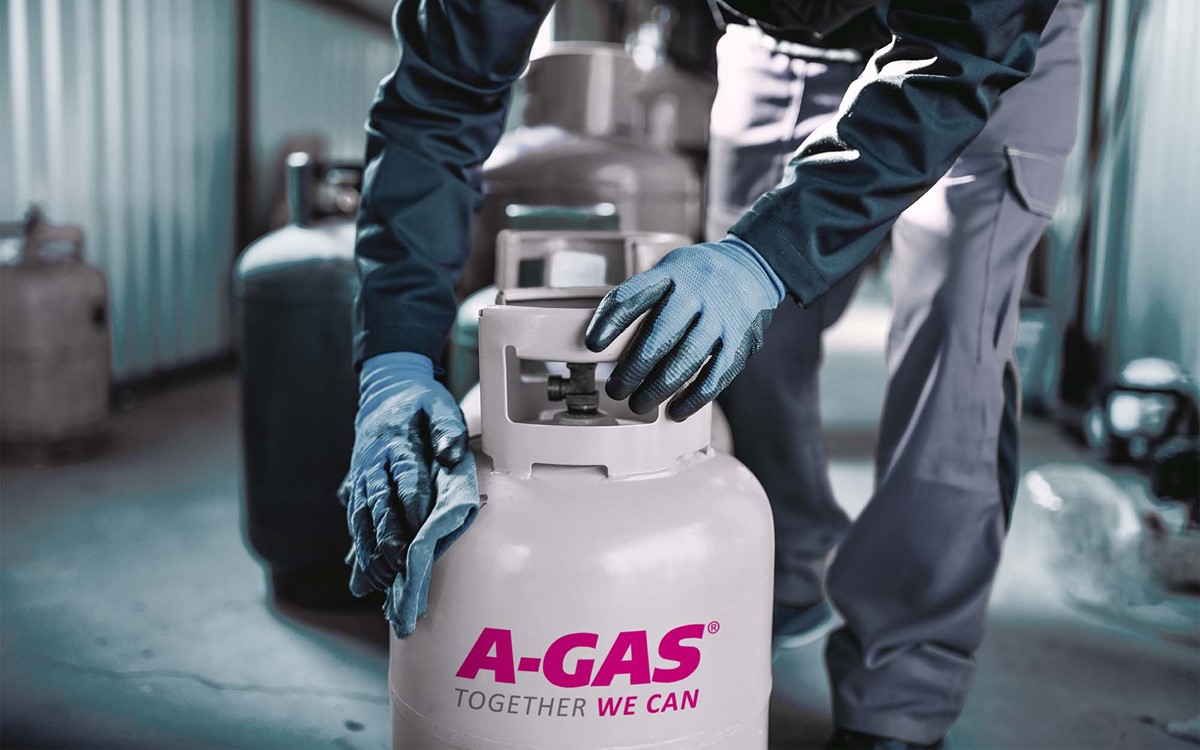 Refrigerant recovery is playing an increasingly important role in the move towards lower GWP (Global Warming Potential) refrigerants. The F‑Gas Regulations' will see a ban on the use of refrigerants with a GWP of over 2500 in new installations and servicing from 2020, where the charge size is over 40 tonnes of CO2 equivalent, more easily understood as around 10kgs of R404A. However, there is no need to panic just yet – reclaimed product still has a role to play in our industry and is very much part of the future.
Here at A‑Gas, we are often asked to explain the difference between recycled and reclaimed refrigerants, after all, they sound similar but are, in practice, very different. Essentially, a refrigerant that has been recycled is an uncertified product that is being returned for use on the same site and has not been moved between premises. It's a used refrigerant that should have gone through a basic, on-site, cleaning process, which is normally carried out by the contractor completing the work.
Conversely, reclaimed refrigerant is product that has been reprocessed by a licensed facility to the industry standard AHRI 700 to match that of virgin product. It is purified, certificated and guaranteed.
Unprocessed product that has been recovered from a system cannot be stored on-site for longer than 12 months due to issues around landfill. At the point you move it from the site, unprocessed or recycled, it is classed as hazardous waste and must be sent, with the appropriate legal environmental paperwork to a licensed facility for reprocessing or disposal.
This is where A‑Gas supports the industry, contractors and end users. We process the waste refrigerant back into AHRI certified product helping to reduce the short term impact of the F‑Gas phasedown process. We are reclaimed refrigerant specialists and don't sell recycled gas at all. Material sent to our reprocessing centres becomes fully reclaimed product and is returned to the market in line with the AHRI 700 standard. We have state-of-the-art and custom-built reprocessing centres at Eygelshoven in Holland and at Portbury near Bristol. At these facilities used refrigerant undergoes chemical analysis, is cleaned of contaminants and goes through our separation plant to produce a product that matches that of virgin refrigerant requirements.
When recovered product is returned to A‑Gas we see what's in the gas and then decide on the cleaning and distillation processes necessary. Air, oil and moisture are always present in any recovered refrigerant as well as other possible contaminants like acids and foreign particulates, especially from compressor burnouts.
It's also worth bearing in mind that a product can change composition through its life if the system has experienced leaks. This is particularly true for blends of refrigerants, such as the R407 family. Contractors should act on the side of caution when looking to re-use recycled products that are not single component refrigerants. A‑Gas offers a refrigerant analysis service at their custom-built lab in Portbury where they can confirm its composition and purity and help relieve that uncertainty.
Our job is to ensure that our reclaimed refrigerant meets the same standards as virgin product. This means it is reprocessed to AHRI 700 standard and can be sold to be used in other systems. When buying reclaimed refrigerant you know it has been returned to the same standard as virgin material. This gives peace of mind to the contractor and the end user and ensures performance.
A-Gas has been working hard to extend its range of reclaimed gases available to customers. We have invested significantly in expanding reclamation facilities in Portbury and in Eygelshoven as the industry across Europe rises to the low GWP challenge. The new Eygelshoven refrigerant reclamation facility is expected to make an impact on reclaimed supplies later this year.
Playing a key role in the A-Gas recovery process is Rapid Recovery – a quick and easy way to recover refrigerant on site at short notice that has impressed customers at home and abroad. They have told us that they like the way it saves time on-site and reduces costs, while the customer continues business as usual. Rapid Recovery was launched in Europe at Chillventa in Nuremberg last year. The service has been operating in the UK since 2017 and has changed the way refrigerants are recovered significantly.
Forward-thinking end users understand that you cannot do long-term planning based on the use of recycled gases. Although reclaimed refrigerant eases the pressure to switch, the cost benefit of changing to a retrofit gas or the capital investment of buying a new system has to be considered at some stage.
No two systems are the same and reclaimed refrigerants give you the breathing space to make the right decision for your system. For every existing installation, there'll be a time when you'll have to consider how old the system is and how long you want to continue on existing gases before changing to a new generation refrigerant or a natural alternative. Reclaimed refrigerant gives you the space and time to plan properly for the future.