A-Gas Rapid Recovery Cuts Carbon Footprint of Major Petroleum Supplier
A‑Gas Rapid Recovery Head of Sales and Operations, John McEvoy, explains how a significant drop in CO2 equivalent emissions was achieved.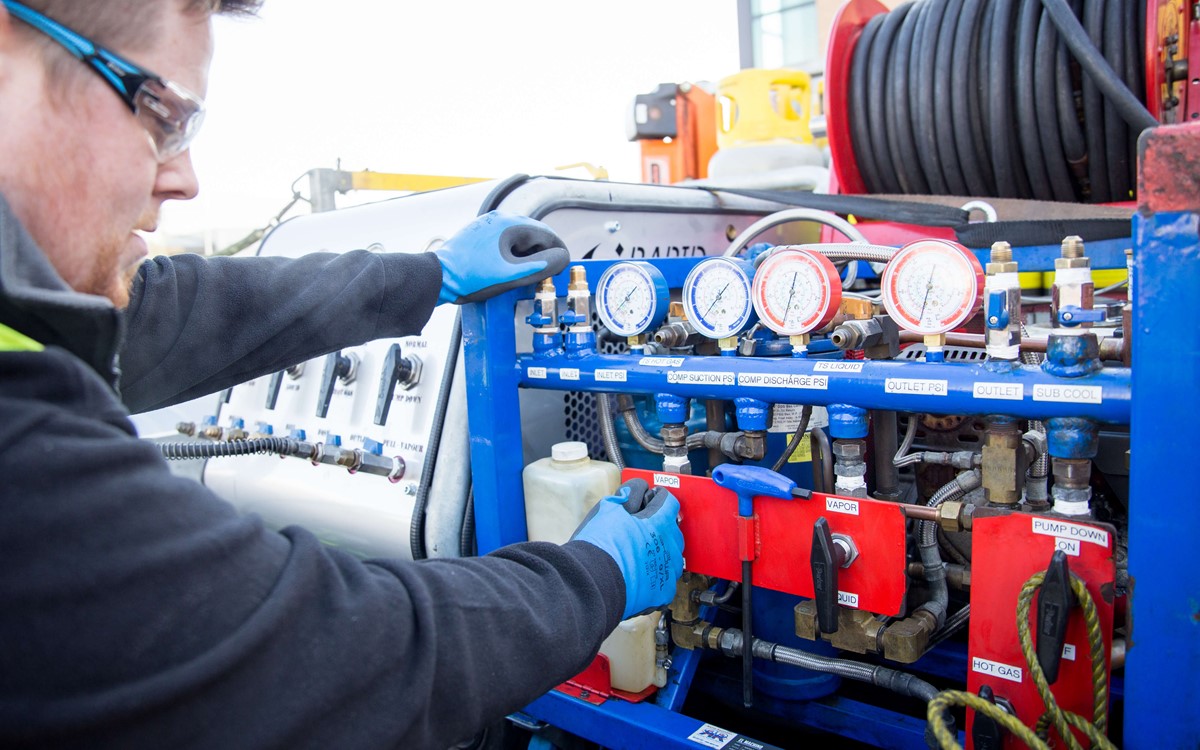 In one of the largest jobs tackled by A‑Gas Rapid Recovery, refrigerant has been recovered from 112 petrol stations across the country. This involved the removal of high GWP R404A and replacement with the low GWP and energy efficient R448A used to chill the food and drink cabinets and cold stores on site.
We were working with Carter Synergy, a national provider of refrigeration services. They looked in detail at how the petroleum supplier could reduce the refrigeration carbon footprint and highlighted the savings that could be made in an environmental and a financial sense.
In devising a programme to remove in the main R404A refrigerant, Carter Synergy targeted the largest potential source of direct emissions and reduced concerns about refrigerant shortages and price rises resulting from the phase downs.
The contractor outlined a clear road map to the client beforehand. Carter Synergy Key Account Manager Ayaz Jabbar said that they also wanted to minimise disruption to store operations and complete the job in four weeks. In place was an ambitious programme running over two phases and to achieve their objectives they needed the help of A‑Gas Rapid Recovery. Without Rapid Recovery, the timeline would have doubled.
The work was undertaken Monday to Friday during normal trading hours. Approximately 45kgs of refrigerant was removed from two cooling packs on each site – amounting to more than four tonnes of R404A in total.
The project was completed in half the time needed if conventional recovery machines had been used to remove the refrigerant. Choosing a low GWP refrigerant and recovering the old gas achieved a significant reduction in refrigeration CO2 emissions.
The project was completed within the set timelines and it was a real feather in the cap for A‑Gas Rapid Recovery. Logistically it was quite a challenge and beforehand to ensure that our team were safe and certificated to work on site, they all had to gain their SPA Safety Passport – a requirement for contractors working on petrol station forecourts. I'm pleased to say that in all respects our team passed with flying colours.
Having that extra time as a contractor was very important to Carter Synergy. It gave them greater opportunity to troubleshoot and deal with any other issues on site should they arise. Employing A-Gas Rapid Recovery enabled the contractor to complete the task in hand very effectively and very quickly.
Tools that make refrigerant recovery easier and quicken the process are valuable. The A-Gas Rapid Recovery, F‑Gas compliant on-site recovery service, is a good example of how having the right equipment can make a real difference when it matters. The ease with which the refrigerants were removed is made possible by the mobile A-Gas Rapid Recovery unit.
Refrigerant sent to A-Gas reprocessing centres becomes fully reclaimed product and is returned to the market in line with the AHRI 700 standard. This project is an excellent example of the Circular Economy at work – the opposite to the take, make and dispose business model – which forces us to seek greater efficiencies and make better use of what we have already.
Reclaimed refrigerant is quota-free and industry experts recognise that refrigerants saved from disposal and returned to use as reclaimed gas can make a direct contribution to reducing the carbon footprint of the industry by cutting demand for new virgin material to meet supply. This saves on raw material usage, energy consumption and unnecessary transport normally associated with virgin production.
A-Gas Rapid Recovery has a network of vehicles and engineers in place to give refrigeration contractors national coverage and this is available to go on site at short notice to handle jobs of all sizes.
To find out how A-Gas Rapid Recovery can help transform your refrigerant recovery process, get in touch.